Refunds & Deferrals
Guthrie Wineglass Marathon Registration Rules
No refunds of entry fees for any reason
No bib transfers will be accepted
No deferrals will be accepted beyond the stated end date
Minimum age for Wineglass Marathon participants: 18 years old
No paper/mail-in registrations for the marathon will be accepted
Racers, pick up your bib and packet at the Expo on Friday or Saturday. There will be NO RACE DAY BIB PICK UP for the full and half marathons at the Start Lines. (See below.)
The Wineglass Marathon is happy to offer participant's Event Insurance that can be purchased at the time of checkout for a small additional fee.
ALL RUNNERS MUST HAVE A BIB WHEN BOARDING A BUS TO THE START LINE! NO EXCEPTIONS! THERE IS NO RACE DAY BIB PICK-UP AT THE START LINES.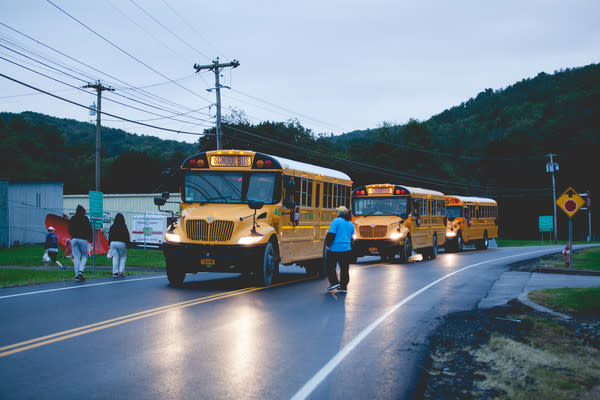 For runners unable to pick up their bibs on Friday or Saturday, bib pick-up will be available on a limited basis at the Corning Information Center, 1 W. Market St., Corning, NY on race morning from 5:00-6:00AM ONLY!
Runners must present a copy of their ID to pick up their bib. Please allow time to get your bib and board your bus to the start line! Runners picking up bibs on race morning MUST pick up their runner swag at the Corning Museum of Glass auditorium after they finish the race (Expo location). Please show your bib.
---
Refunds
Your registration is non-refundable. The Wineglass Marathon is happy to offer participants optional Event Insurance that can be purchased for a small additional fee when registering for the full and half marathons. If you purchased Event Insurance during registration and would like to request a refund, please contact AGA Service Agency. Detailed information can be found HERE.
---
Deferral Policy 
Your registration for the Wineglass Marathon and Half-Marathon is non-refundable and non-transferable. However, if you have registered but find you are unable to participate you may choose to defer your entry to 2024. A limited number of deferrals will be available. If capacity for this program is reached prior to the deadline of September 15, 2023, the program will close early. There will not be a notification of program status. Runners can only defer their Full or Half Marathon registration to the following year (2024). Subsequent deferment is not allowed.
Deferrals are accepted through our on-line registration site, RunSignUp. Log into your Profile, My Registered Races, View/Edit Registration, Defer Registration. The deferral fee is $60.00. This allows you to defer to 2023 and not incur a cost when registering using your deferral coupon code for your 2024 entry. You can only defer for one year. Your coupon code will be issued at the time registration opens for 2024. The coupon code must be used to enter the same race you were originally registered for. In other words, if you deferred from the 2023 full marathon, you must register for the 2024 full marathon. VIP deferrals will receive a full marathon registration in 2024, as the remainder of your registration is considered a donation to the Wineglass Scholarship Fund. Deferring does not guarantee a spot in next year's race.
YOU MUST REGISTER USING THE DEFERRAL COUPON CODE! Deferral coupon codes expire February 1, 2024 or when the event sells out, whichever occurs first. Please do not wait to register using your deferral coupon code!